Submitted by Kayo
We love apple cider vinegar, and this is one of our favorite marinated vegetable salads using it. Make it at least 30 minutes in advance so that the flavors blend nicely. We like to make it the night before because it really does help all the flavors dance together.
Ingredients:
1 can Artichoke, rinsed, drained, and quartered
1 C English cucumber, sliced into 1/4 inch thickness
1 C Tomatoes (plum or roma), halved if Plum, cut into 1/8 if Roma
2 TBSP Extra virgin olive oil
1/2 C Apple cider vinegar (we use unfiltered organic)
1 tsp Granulated onion
1/2 tsp Granulated garlic
1/2 tsp Kosher salt
2 pinches Dried oregano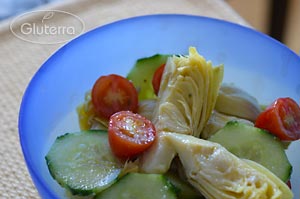 Directions:
In a large glass bowl, mix all ingredients except for artichoke, cucumber, and tomatoes.
Add vegetables and toss so all vegetables are well coated with the vinegar mixture.
Chill in the fridge for at least 30 minutes or longer.
Notes:
I recommend buying whole artichokes in a can as opposed to quartered artichoke. My experience has been that quartered artichoke falls apart easier when you take them out of the can. I cut the whole artichoke into quarters with a knife. I also recommend
Bragg's organic apple cider vinegar
for making this salad. This is the Apple Cider Vinegar (ACV) with the "Mother" in it — it says so on the label. It's pure, organic, and unpasteurized. There are lots of benefits to this ACV alone! In addition, we prefer all of our veggies (fresh, canned or frozen) to be organic and think it's worth the extra little bit for it.
Average Gluterra user rating: