Submitted by Kayo
This sauce/marinade is simple yet very flavorful. It's great as a seasoning for stir fry or as a marinade for BBQ. I use it as a base marinade for mongolian beef (a separate recipe for mongolian beef is coming soon). Since the recipe contains sugar, the food tends to burn easily, so watch your meat carefully.
Ingredients:
2 cloves Garlic, chopped
1 tsp Fresh ginger, grated
6 TBSP Gluten-free soy sauce
4 TBSP Sake (rice wine)
4 TBSP Sugar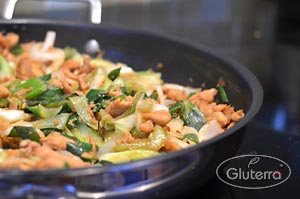 Directions:
Mix all together and use it as a marinade for chicken or beef, or as a seasoning for Asian stir fry.
Notes:
If you can't find rice wine, you could use sherry wine or white wine instead, but not sure I would recommend that. If the wine is relatively sweet, you might want to reduce the sugar in the recipe to 3 TBSP. I don't recommend using "cooking" wines in recipes since they are usually lesser quality.
Average Gluterra user rating: