Submitted by Kayo
This guacamole recipe gets lots of compliments. It's simple and easy to make, but the right ratio of ingredients is what makes it or breaks it. The secret is to put just a tiny amount of fresh minced onions in it, but not much so that you won't overpower the flavor.
This is a great appetizer with corn chips, or you can use it in tacos or drop a scoop on a salad.
Ingredients:
1 ripe Avocado
1/2 tsp Fresh onion, minced
1/2 Lime, juiced
1 Roma tomato or 3 Plum tomatoes, seeds and middle part removed and chopped
Handful of fresh cilantro leaves, chopped
Kosher salt to taste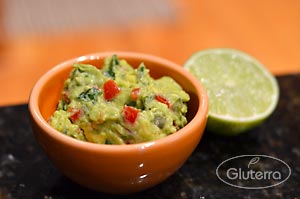 Directions:
Cut the avocado in half and slit the flesh with knife without cutting the skin. Then scoop the flesh with a spoon into a bowl.
Add lime juice and salt.
Add the onions and cilantro and mix well.
Add tomatoes and mix lightly until they are evenly mixed into the guacamole.
Serve immediately. Because avocado will oxidize quickly, you won't be able to store it for very long.
Notes:
The avocado is ripe when the tip of the avocado where the stem used to be can be pushed in slightly.
Tomatoes should be relatively free of liquid after you clean out the middle of the tomatoes. Otherwise, the guacamole will be watery.
This goes without saying, but I'll say it anyway — use only the freshest ingredients to make this incredible.
A quick tip for leftovers to help prevent browning (oxidation): the key is to make sure there is as little air as possible touching the guacamole since the air is what causes it to brown. Place all the remaining guacamole in a bowl or glass container, push all the guacamole down with a spatula until it is as compact and flat as you can make it; take two sheets of saran wrap and push down into the bowl so that the guacamole touches only the bowl and the saran wrap — no air between the guacamole and saran wrap. The two sheets of saran wrap are important since one sheet doesn't seem to do the trick. You can cover with an additional lid or just leave as is and put in the fridge for later. However, you should probably plan on eating by the next day. If the guacamole is brown when you return for it, simply take a utensil and scrape off the top brownish layer, revealing the nice green color of the fresh guacamole.
Average Gluterra user rating: