Submitted by Kayo
Here is an easy and tasty tomato side-dish you can prepare in minutes. As always, it's gluten-free! Pop them in the oven for 30 minutes and they come out perfect.
Ingredients:
6 Roma tomatoes
3 TBSP Extra virgin olive oil
1 tsp Balsamic vinegar
3 cloves Garlic, chopped finely
Kosher salt to taste
1 TBSP Sugar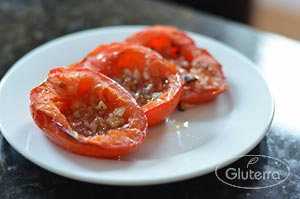 Directions:
Preheat the oven to 425F.
In a small mixing bowl, mix olive oil, balsamic vinegar, garlic, and a pinch of salt and set it aside.
Cut the tomatoes in half lengthwise, then scoop out the core and seeds in the middle with a spoon.
In a large casserole, place the tomatoes face up.
Drizzle the oil and vinegar mixture over the tomatoes evenly.
Sprinkle sugar on the tomatoes.
Roast the tomatoes for 30 minutes, or until the fork goes through the tomatoes without much resistance.
Average Gluterra user rating: