Submitted by Kayo
This is one of our favorite ways to eat tofu. It's crunchy when it's hot, slightly chewy when it cold. It's great as a main dish with a side of brown rice, or as a healthy snack.
Ingredients:
2 Packages of extra firm tofu
1/3 C Olive oil
3 TBSP Gluten-free soy sauce or Liquid aminos
2 TBSP Nutritional yeast flakes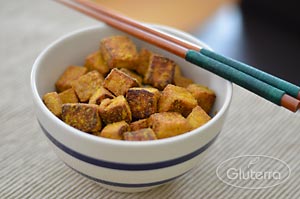 Directions:
Cut tofu blocks into 3/4 inch sized cubes (about 48 cubes per package). Drain as much water as possible.
In a large non-stick skillet, add olive oil and heat the skillet to medium high.
Add tofu cubes into the skillet in one layer.
Flip the tofu once in a while to ensure each side of cube is golden brown. Continue to cook until all sides are cooked.
Remove from heat, and wipe off excess oil in the skillet with paper towel.
Pour the soy sauce evenly over the tofu. Stir the tofu cubes to coat them evenly with the soy sauce.
Sprinkle the nutritional yeast flakes. Serve immediately.
Average Gluterra user rating: