Submitted by Kayo on March 29, 2013
We all know Gwyneth Paltrow - an actress, a mother, and a wife who is married to Chris Martin (the lead singer of Coldplay). Did you know that she is also following a gluten-free and low-carb diet?
She is releasing her second cookbook, "It's All Good: Delicious, Easy Recipes That Will Make You Look Good and Feel Great". It won't be released until April 2, 2013, yet it's already ranked #1 in 3 different categories on Amazon:
Cookbooks, Food & Wine > Special Diet > Healthy
Health, Fitness & Dieting > Diets & Weight Loss > Other Diets
Cookbooks, Food & Wine > Vegetables > Vegetarian
I saw a few recipes that are from the book: Mustard + Old Bay Fish Fingers, Millet "Falafel" with Avocado + Tomato Relish, Chicken Burgers Thai Style and a couple more. They are all simple and good looking recipes. Look at this chicken burger: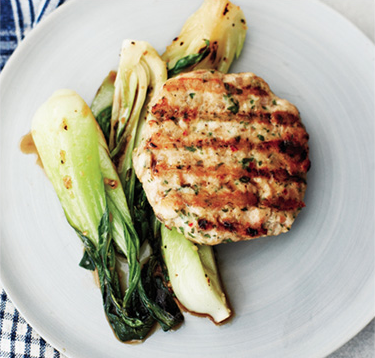 Yum. I think I am going to order this cookbook.
Tags: