Submitted by Kayo on April 7, 2013
I shop at Whole Foods regularly, especially since we started eating mostly organic produce at home several years ago. Whole Foods seems to have the freshest and best variety of organic produce where we live (I like Trader Joe's too, but their produce is limited).
When I go to a grocery store, I always have a shopping list ready, but I also look for what's on sale and what looks good at the store. Today, I found these guys: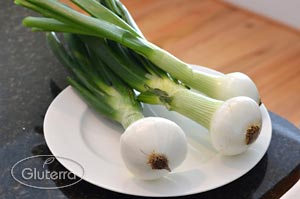 They are organic Vidalia spring onions. If you don't live in the South and don't know what Vidalia onions are, they are sweet onions produced in (surprise surprise) Vidalia, Georgia and other nearby counties. They have higher water and sugar content than regular onions and therefore have a milder taste. I've seen some people eat them like an apple.
I usually only see regular Vidalia onions (bulbs) at grocery stores. In fact, I don't remember ever seeing these Vidalia "spring onions" before. At least I never paid attention to them until today. They looked so fresh and pretty that I just had to buy them, but I've never cooked them before. So what should I do with them? It seems like they can be used a substitute for green onions.
And this is how they ended up at home (gluten-free of course):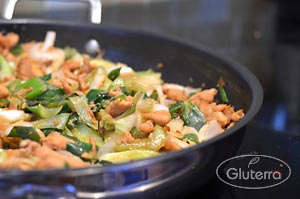 This is sort of a low carb version of mongolian beef chicken. I used this Asian marinade recipe, which is the marinade I use to make mongolian beef (the recipe will be coming soon). For today's version, I sliced chicken breasts thinly and marinaded them in the sauce for 10 minutes. I then stir fried them on high heat until almost done. Finally I added the sliced Vidalia spring onions at the end so I wouldn't overcook them. I served it with brown rice for dinner. These onions were very sweet, fresh, and delicious!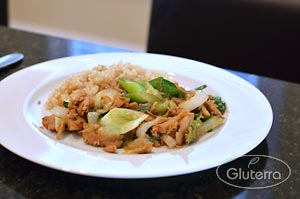 I like using Vidalia onions in salads and quick stir fries, but there are hundreds of Vidalia onion recipes available on our website too.
According to the Vidalia Onions Committee web site, the Vidalia onion season is officially starting on April 12. I'm looking forward to seeing Vadalia onions in grocery stores in a few days. When we got to the beach on the Atlantic coast side, we sometimes drive through Vidalia, Georgia and pick up a big bag of Vidalia onions from a country roadside store across from an onion field. Now, those onion are as fresh as they get!