Submitted by Kayo on May 1, 2013
Did you know that May is designated as National Celiac Awareness Month? Celiac disease (also spelled Coeliac disease) is an autoimmune disorder of the small intestine triggered by the ingestion of gluten. The symptoms could include (but not limited to) diarrhea, weight loss, bloating, depression, and/or abdominal pain. If untreated, Celiac disease can cause other health related problems.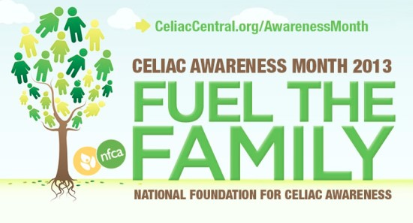 I recently met an older woman who had Celiac disease. She said that she had been having digestive issues since she was a teenager. Celiac disease was not well known back then, so she or even her doctor never suspected she had Celiac. She lived with her pain for decades until 6 years ago when she was finally properly diagnosed with Celiac. She stopped eating gluten, and her symptoms stopped. She said that she was finally feeling normal again.
While there is no cure for Celiac disease, it can be treated with a strict, lifelong gluten-free diet. If this woman had known about Celiac disease when she was a teenager, she wouldn't have had to go through all the suffering she went through. That's why the awareness is so important.
Rather than trying to recreate the wonderful job the National Foundation for Celiac Awareness (NFCA) did, I'll put a link to their Celiac Awareness Month page for more information about Celiac disease, symptoms, testing, diagnosis, etc.
Tags: