Submitted by Kayo on May 17, 2013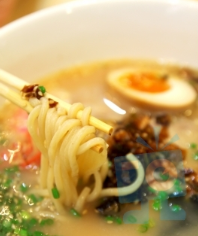 I LOVE soupy noodles. Hot soupy noodles are my comfort food. I have such fond memories of eating lots of ramen noodles, udon noodles, and soba noodles growing up in Japan. Unfortunately, all of them I just mentioned contain gluten. And contrary to popular belief, soba noodles usually contain gluten unless the package specifically says they are gluten-free or made of 100% buckwheat. This is because while soba (buckwheat) itself is gluten-free, soba noodles are usually made with flour to bind the noodles so they don't break apart.
If you like the thought of soupy noodles but have never heard of "pho", you might want to try it some time. Pho is a popular Vietnamese noodle soup dish - rice noodles in flavorful broth made from beef, ginger, star anise and other spices. And they are most likely gluten-free as long as they are made from scratch (i.e. no canned broth was used). My husband who is gluten intolerant has no problem eating pho, so we go to pho restaurants once in a while (They can still be high in carbohydrates (much like spaghetti), so if you are limiting your carbs, this may not be the best dish for you. However Vietnamese restaurants typically have many other lower carb options.
The best restaurants are often found in more ethnic areas. If you have never eaten pho noodles, it may be a little intimidating at first. First you have to decide on your meat. Traditionally beef is the meat of choice, but you still have to pick what part of beef you would like - fatty brisket, flank, tendons, rare steak, etc. Most restaurants will also have chicken, seafood, and even vegetarian options. They make it easier on you by providing a number and letter combination (e.g. P12) next to the menu item so that there is less chance of making a mistake.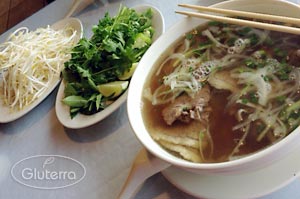 In addition to the bowl of noodles in soup, there is a side of vegetables they bring to your table that you can add to the soup - bean sprouts, cilantro, thai basil, jalapeño peppers, and lime (There may be others, but that's all I have seen where I live). You put these vegetables in the soup as much or little as you prefer. Then there are extra seasonings like hoisin sauce or chili sauce, but I don't usually put any additional sauce into my soup because the broth is delicious as-is.
If you are concerned about the cross contamination and/or want to cook it by yourself, you can find close to 50 different pho recipes on our site: http://gluterra.com/recipes/search/keywords/pho. This way, you can make sure that pho is gluten-free.
Tags: