Submitted by Kayo on June 4, 2013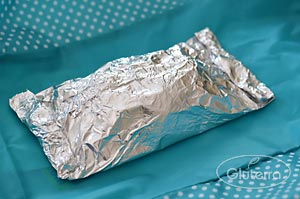 I am new to camping, but have enjoyed several trips with my husband so far. I like to make "foil packets" before we go camping so that there's not a lot of cooking to do when we get there. After all, it's a vacation for us and I don't want to spend a lot of time slaving over a stove or fire.
This recipe is not really a gluten-free recipe but more of a cooking method. The basic idea is to put meat and/or veggies along with oil, seasonings, and a little bit of water (if you're steaming veggies), into a heavy-duty foil wrap to make an airtight and relatively fireproof food packet. These packets can be put directly on the campfire to cook.
I make packets for our first camping night before we leave for the trip and keep them in the cooler. I may make more packets depending on what we eat, but many can be quickly assembled on site. Some of the combinations I have made include:
Sliced potatoes, onions, bell peppers, and seasoned ground beef (or a GF veggie burger broken into small pieces)
Broccoli and cauliflower with a little bit of water (I buy pre-cut veggies in a bag) with salt and pepper and maybe a little bit of margarine. Make the packet loose so that the foil is not touching the top of the veggies (but still airtight) so there is room to steam the veggies.
Sliced sweet potatoes with a little bit of oil (so they don't stick). I slice potatoes so they will cook quicker.
Or simply a packet of cooked baked beans, BBQ pork, roasted chicken (remove bones and shred the meat), or for breakfast, scrambled eggs.

I put fully cooked meat and mostly cooked eggs in the packets instead of raw which is different from what most foil packet recipes call for. My husband thought this pre-cooked egg thing was strange at first, but he thinks it's great now. I am used to pre-cooked eggs since Japanese people use pre-cooked eggs in "obento" (Japanese lunch box) and also as a sushi topping.

When I'm taking meat that won't be eaten the first night, I divide it into individual serving portions and wrap them in saran wrap and freeze them. I take the frozen blocks of meat in the cooler with us. I then put the meat into foil packets at the campground on the 2nd or 3rd day since it will be defrosted by then. And everyone gets to have their own unique meal this way, which is especially great if you are bringing along kids.

I always wrap each packet with a second layer of foil for durability. It makes it an easy-to-eat meal because the second layer keeps the inside packet clean.

Another quick and easy GF breakfast we eat is a package of instant GF hot cereal with a handful of trail mix (i.e. craisins/raisins, pumpkin seeds, almonds, etc.) mixed into it. This one requires only hot water and no cooler.
Tags: