Submitted by Kayo
This is my basic fried rice recipe. As with many Asian dishes, the secret to making good fried rice (or stir fry) is to heat your wok really well. Making fried rice at a high temperature in a short amount of time gives it the "fried" flavor you are looking for.
Ingredients:
6 C Cooked jasmine rice
2 C Leftover roasted or pulled pork, chopped
2 C Green onions, chopped
4 Large eggs, beaten
2 TBSP Organic canola oil
Gluten-free soy sauce to taste (2-4 TBSP)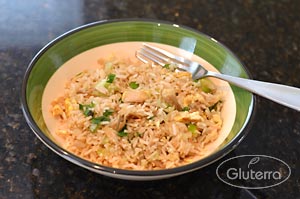 Directions:
Heat the wok on high heat until the wok starts to smoke slightly.
Add canola oil to the wok, followed by the pork and stir for a minute until the pork is hot.
Pour egg mixture into the wok and scramble the eggs until the eggs are almost cooked.
Add the rice into the wok and stir for a couple of minutes.
Add the green onions and stir just until the green onions are well spread.
Pour the GF soy sauce evenly over the rice mixture and and stir for a minute. Serve immediately.
Notes:
I used to use sushi grade short grain white rice to make fried rice. You can substitute the jasmine rice with regular white rice, but I think jasmine gives an extra layer of flavor to the dish.
For pork, I like to use leftover pulled pork cooked in a slow cooker but you can use any kind of meat such as chicken, tofu, shrimp, ham, or omit it all together. I have also used bacon a long time ago, though you would want to make sure you drain the fat if you do. Adding pork really gives a nice rich flavor and I highly recommend it.
Optionally, you can add peas, soy beans (shelled edamame), mixed vegetables, and/or toasted sesame seeds.
When stir-frying with high heat, it is much better to use an oil like Canola with a high temperature smoking point instead of a more healthful oil like olive oil.
Average Gluterra user rating: