Submitted by Kayo
This recipe is great because it's a quick and easy to make and can be made in advance. It's also great for leaving in the fridge for a healthy, filling snack.
We like to keep this in the fridge as a last minute addition to tacos when all you have are the shells, maybe some chicken, and a red bell pepper. If you've cooked the chicken ahead of time, you can literally have tacos for the family in less than 10 minutes.
Ingredients:
2 cans (14.5 oz can) black beans, rinsed and drained
1/2 can (14.5 oz can) corn, rinsed and drained
1/4 small red bell pepper, chopped
1/4 small onion, chopped
1/4 C fresh cilantro leaves, chopped
1 lime, juiced
1 tbsp apple cider vinegar (we like Bragg's natural unfiltered Apple Cider Vinegar)
salt to taste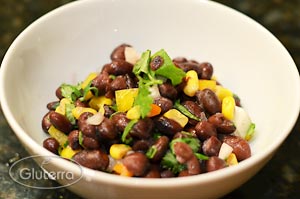 Directions:
In a bowl, combine all ingredients and chill for at least 30 min.
Average Gluterra user rating: