Submitted by Kayo
This dish is off the charts in the healthy-for-you category with ingredients found on the top of the nutrient density list - kale and broccoli. The sun-dried tomatoes balance out the kale and broccoli nicely and it gives an overall balanced taste. This makes an excellent side-dish.
Believe it or not, both broccoli and kale are in the same family - the cabbage family. Both are high in Vitamin C, and kale is high in Vitamin A and K as well as beta-carotene.
Ingredients:
1 head broccoli florets, cut into bite size pieces
5-6 kale leaves, stems removed and chopped
3 cloves garlic, chopped
1/2 C sun dried tomatoes packed in olive oil, sliced into 1/4 inch strips
1 TBSP extra virgin olive oil (or use the oil in the sun dried tomato jar)
Kosher salt to taste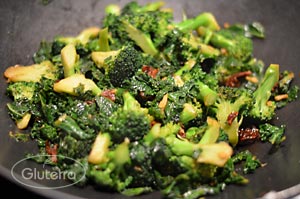 Directions:
Heat a wok to medium high.
Add oil, sun dried tomatoes, and garlic in the wok and cook for 1 minute (don't burn the garlic).
Add broccoli and cook for another minute.
Add kale and cook for several minutes until the vegetables are the texture you like
Season it with salt.
Notes:
You can add 1-2 TBSP of water to the wok when you add kale if the kale is dry. The steam will help cook it.
Average Gluterra user rating: