Submitted by Kayo
This easy baked chicken is both easy and packed with flavor! Since we are a casein and lactose free household, we use ghee (a type of clarified butter that is casein and lactose free) in this dish, but you can easily substitute ghee with regular butter.
Ingredients:
4 Large bone-in chicken breasts
2 TBSP Ghee (clarified butter), melted. We like Purity Farms.
1 tsp Granulated garlic
1 tsp Granulated onion
1/2 tsp Kosher salt
1/2 C chicken stock or water
Some gluten free flour to thicken the gravy (optional)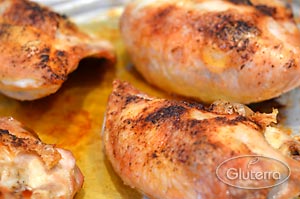 Directions:
Combine garlic, onion, and salt in a small dish and set it aside.
Rinse the chicken and pat dry with a paper towel.
Poke the skin with a fork in several places.
Place the 4 chickens in a large casserole dish and brush the surface of the chicken (front and back) with melted ghee. Then sprinkle the dry seasoning mixture evenly on the chicken (again front and back).
Bake in a 350F oven until the internal temperature of the chicken reaches 165F (USDA recommended safe minimum internal temperature — we use a food thermometer). Approximately 50-60 minutes. If you want to have crispy skin, broil the chicken for a few minutes before removing from the oven.
Remove the chicken from the casserole dish. Place the casserole dish on the stove and heat it on medium high. Add 1/2 C chicken stock or water and scraping up all the brown pieces in the dish to make gravy. Strain the liquid to remove any large lumps.
Optional: whisk in some gluten free flour to thicken the gravy.
Notes:
We are not a huge fan of thick sauce, so we don't thicken the gravy using flour. Also, we use water instead of chicken stock to deglaze the pan. The gravy is still very flavorful.
Average Gluterra user rating: