Submitted by Kayo
These peanut butter cookies are super easy to make. Amazingly they contain no flour but you can't tell they're flourless.
Ingredients:
1 C Peanut butter
1/4 C raw sugar (or white sugar)
1/4 C brown sugar
1 Egg
1/2 tsp Vanilla extract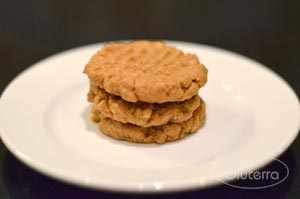 Directions:
Preheat oven to 350F.
Mix all ingredients.
Using a spoon, place 1 tablespoon of dough about 1 inch apart onto ungreased baking sheet for a total of 24 cookies (4x6).
Using the back of a fork, press down the dough to about 1/4 inch thick.
Bake for 10-12 minutes.
Cool them on the baking sheet for 5 minutes before transferring them to a cooling rack.
Makes 24 cookies.
Average Gluterra user rating: