Submitted by Kayo
Tasty muffins that make it very heard to tell it's gluten-free! We've give them to friends and until we told them, they didn't know the difference.
These muffins are not overly sweet and have a great texture. If you need extra sweetness, we like to drizzle some raw honey on them.
Ingredients:
1/3 C canola oil
2/3 C brown sugar
3 TBSP egg replacer + 2 TBSP water as needed (see notes below)
1 tsp vanilla extract
1 3/4 C gluten-free flour
2 tsp baking powder
2 tsp baking soda
1 tsp cinnamon
1 tsp xanthan gum
1/2 tsp kosher salt
1 1/2 C ripe bananas mashed (about 3 medium)
1 1/2 C walnuts , chopped
If you can eat eggs and don't want to use egg replacer, you can use 2 eggs instead.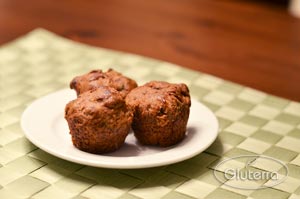 Directions:
Preheat the oven to 325F
Mix all dry ingredients in a bowl and blend well. Set it aside.
In a separate large mixing bowl, mix the banana, oil, and brown sugar. If you are using eggs, add them to the mixture at this time.
Add the walnuts to the wet mixture.
Slowly add the dry mixture into the wet mixture. Add up to 2 TBSP of water until the batter is well blended.
Pour the mixture evenly into a 24 cup mini muffin pan.
Bake for 20 minutes
Average Gluterra user rating: