Submitted by Kayo
Gluten free and flourless! This recipe uses black beans as the primary ingredient. Yes, black beans! Don't worry, though, you won't taste the beans (my husband had no idea).
Compared to the regular brownies, they are lighter and crumblier. Don't expect them to replace the decadent brownies you've had before, but think of them as a healthier alternative. They are still great little treats, and we love them!
Ingredients:
1 15oz can No salt added black beans
1 Egg
2 TBSP Extra virgin olive oil
1/4 C Good quality cocoa powder
1 1/2 tsp Vanilla extract
1/2 C Sugar
1 tsp Baking powder
1/8 tsp Kosher salt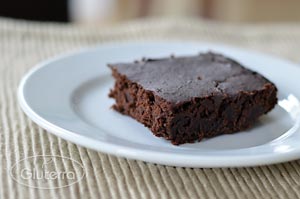 Directions:
Preheat the oven to 350F
Rinse the black beans and blend them in a food processor until they become pasty.
Add rest of the ingredients except for the egg and blend until the mixture is very smooth (you don't want bean chunks in your brownies). The mixture will be more wet and easier to process at this point.
Add the egg and blend until the egg is well incorporated into the mixture.
Pour the batter into a 8x8 baking dish lined with parchment paper.
Bake it for about 25-30 minutes. When you stick a tooth pick in the brownies, it shouldn't come out too wet.
Cool the brownies completely before you cut them (brownies will break into pieces easier when they are hot).
Notes:
If you like a hint of coconut taste, try substituting olive oil with coconut oil for a delicious twist. And serving this with ice cream, or our favorite dairy free
"Coconut Bliss"
brand Vanilla or Chocolate Ice Cream will all but guarantee it will pass the spouse and kid test.
Average Gluterra user rating: