Submitted by Kayo
Hummus is a Middle Eastern dip/spread made from chickpeas (garbanzo beans). I like mine slightly denser than the store bought kind, but the consistency can easily be adjusted.
Hummus can be served as a healthy dip for carrots, cucumbers, celery, and gluten-free lentil chips. We also use it as a spread in veggie wraps. It's our go-to healthy gluten-free appetizer for friend and family get-togethers.
Ingredients:
1 can Chickpeas
1 tsp Cumin powder
2 TBSP Tahini
2-4 TBSP Lemon, juiced
1 TBSP Olive oil
1 clove Garlic
salt to taste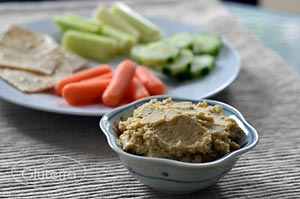 Directions:
Drain the chickpeas in a can and save the liquid.
Add chickpeas, cumin, tahini, garlic and 2 TBSP of lemon juice in a food processor and blend until smooth.
Add salt to taste. Be careful not to add too much salt if you will be serving with salty chips instead of our recommended lentil chips. Add up to 2 more tablespoons of lemon juice to get the desired tanginess. (Since the lemon's acidity differs, it's hard to recommend an exact amount.)
Add the saved chickpea liquid, 1 TBSP at a time, and blend until you get the desired consistency.
Notes:
Refrigerate the leftovers.
Average Gluterra user rating: