Submitted by Kayo
This a relatively light and very healthy soup, a perfect starter to any meal. And it's even better the next day. Don't give up on it, even though you might flinch a little with an ingredient as healthy as kale, but it is delicious.
Ingredients:
6 C Chicken broth
4 Kale leaves, stems removed and leaves chopped
1 can Navy beans, drained
1 Carrot, peeled and sliced to 1/4 inch thick
1/2 Onion, chopped
2 cloves Garlic, chopped
Salt to taste
Pepper to taste (optional)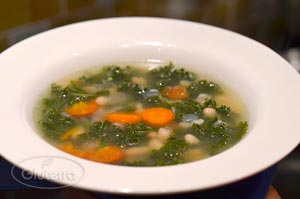 Directions:
In a pot, bring chicken broth to a boil.
Add garlic and onions - cook for 5 minutes.
Add kale and carrots - cook until they are tender, about 20 minutes
Add navy beans - cook for another 5 minutes
Add salt and pepper to taste
Notes:
If your beans are relatively firm out of the can, then put them in a little earlier. We prefer all organic ingredients, especially with foods like kale that do not have a skin on them to protect them from pesticide contamination.
Average Gluterra user rating: