Submitted by Kayo
This is a light, yet filling soup with just the right amount of lentils. We use our own chicken stock for the base, and a good base broth is the key to making good soup.
Ingredients:
6 C Chicken stock
1/2 Onion, chopped
2 Medium carrots, sliced
1 C chopped tomatoes (see notes at the bottom)
2 cloves Garlic, chopped
1/2 C Dry lentils
A handful of baby spinach, roughly chopped
Salt to taste
1 Bay leaf (optional)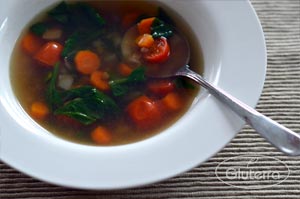 Directions:
In a pot, heat the chicken stock, garlic, and onions on high heat and bring it to a boil. Optionally, add the bay leaf at this point. Once boiled, reduce the heat to a simmer.
Add carrots, tomatoes, and dry lentils, and continue to cook until the lentils are done to your liking — about 20-30 minutes.
Add salt to taste, then finally add spinach and cook for 1 more minute. Remove from heat.
Notes:
For tomatoes, we use fresh plum tomatoes, but the skin can be tough sometimes. If you can't find good plum tomatoes, you can use peeled roma tomatoes or canned tomatoes instead.
We personally don't put bay leaf in this soup because we make our own chicken stock and it is made with bay leaf in it. If you use our chicken stock recipe, you may want to omit the bay leaf in this recipe.
Average Gluterra user rating: