Submitted by Kayo
When we buy beets, we eat both the leaves and roots. Many people discard the leaves, but they are edible (they remind us of swiss chard) and can be tasty if prepared well. We sauté them with garlic and olive oil. For the roots, we make pickled beets. They taste much better than the store bought kind, and can be made using only simple ingredients. Most importantly, there are no preservatives or additives in this dish!
Ingredients:
1 Bunch fresh beets (about 4 beets)
1/4 C Apple cider vinegar
1 TBSP Sugar
1/4 tsp Kosher salt
1 TBSP Extra virgin olive oil (optional)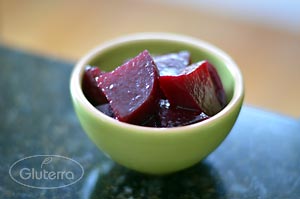 Directions:
Remove the leaves from the roots, and wash the roots thoroughly.
Cut a large piece of aluminum foil and loosely fold it into two, lengthwise. Fold the edges so the foil makes a large pocket, and place the beets inside. Close the top so that the foil is completely sealed with beets inside.
Place the foil package of beets on a cookie sheet or casserole dish and bake in the oven at 400F until they are tender (i.e. until you can easily stick a toothpick into the beets). About 40-60 minutes.
Let the beets cool for 30 minutes or until they can be easily handled by your bare hands.
Peel the skin of them and rinse. The skin should peel right off using your fingers, so you shouldn't need a knife.
Cut the beets into bite size pieces.
In a salad bowl, mix apple cider vinegar, sugar, salt, and olive oil (optional) and whisk until the sugar is dissolved.
Add beets into the vinegar mixture and mix until the beets are well coated. Chill in the refrigerator for a few hours.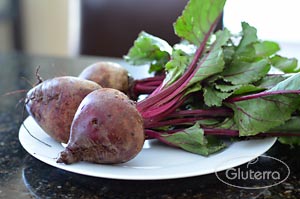 Average Gluterra user rating: