Submitted by Kayo
This is a nice little simple, yet tasty dish. There seems to be a lot of garlic in the recipe, but many will think it is somewhat mild since the garlic is roasted and has the texture of a potato. We love it! Our suggestion is to use the amount of garlic called for in the recipe and you can always pick out the garlic if you think it is too much. Plus, garlic is a great health food. Make sure not to prepare and eat this if you are going on a date the same night :)
Ingredients:
1 head Cauliflower, stem removed and cut into bite sizes
1.5 bulbs (yes bulbs, not cloves) of garlic, peeled and lightly mashed with the broad side of a chef's knife
1/4 to 1/2 C Extra virgin olive oil
1 tsp Kosher salt
1 pinch dry thyme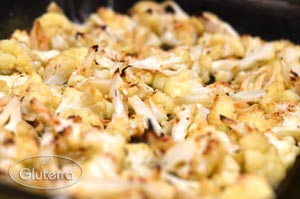 Directions:
In a large glass casserole pan, mix cauliflower and garlic.
Sprinkle salt (maybe about 1/2 tsp - you can always add salt later) and thyme.
Pour the olive oil over the cauliflower and garlic mixture and mix them up so they are well coated. Using your hands is easiest for the mixing.
Roast the vegetables in the 400F oven for 15 minutes, then stir them every 10 minutes so they brown evenly. Roast for a total of 40 minutes or until the cauliflower is done to your liking. The garlic will be roasted and have the texture of a roasted potato.
Notes:
This dish reheats really well in the oven or microwave. You can make it a day in advance and easily serve it the next day.
Average Gluterra user rating: