Submitted by Kayo
If we have fresh spinach on hand, this is the go-to smoothie that packs a nutritious and hearty punch. It gets you started ahead of the curve on having all your fruits and veggies for the day. It's Gluten-free and dairy-free, packed with protein, and is a great way to start your day.
It's got a great, fresh taste without the too-healthy raw taste that I sometimes get when mixing raw and healthy ingredients. If you put too much protein powder, it can get a little chalky, so if that happens, add some more strawberries to help balance out that problem. We like to eat it for breakfast, but this recipe is good for anytime of the day.
Ingredients:
1/2 apple
1 small banana
1/2 C frozen berries (i.e. strawberries)
1 1/2 C rice milk or other type of milk
1/4 C almond butter
2 tbsp hemp protein powder (Optional)
2 C fresh baby spinach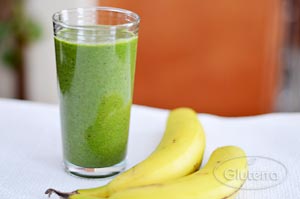 Directions:
Combine all ingredients in a blender and blend until smooth.
Notes:
Spinach is measured packed.
Average Gluterra user rating: