Submitted by Kayo
Unlike the traditional version, this recipe does not use bacon. It can easily be converted to vegan if you use vegan mayonnaise. This is a very simple recipe, but we make it even simpler by using a bag of pre-cut organic broccoli florets. We can prepare it in just a few minutes!
Ingredients:
1 bag (12 oz) of pre-cut broccoli florets (about 6 cups)
1/2 C Chopped onion (about 1/2 of small onion)
1/4 C Raisins
1/2 C Roasted unsalted cashews, roughly chopped
1/4 C Gluten-free mayonnaise
1/4 C Apple cider vinegar
1 TBSP Sugar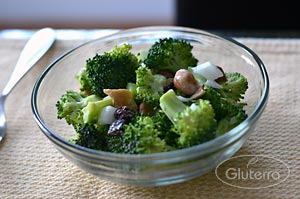 Directions:
In a small bowl, whisk together mayonnaise, apple cider vinegar, and sugar until there are no lumps. Set it aside.
In a large salad bowl, mix the rest of the ingredients, and pour the mayonnaise mixture over the vegetables. Mix until well blended.
Chill in the refrigerator for at least an hour before serving.
Notes:
We always use organic vegetables if they are available. Also, we don't like vegetables coated with too much sauce or dressing, so the recipe above gives just enough taste to the salad without going overboard. If you find the salad under-seasoned, you can simply double the amount of dressing used in the recipe and add salt to taste.
Average Gluterra user rating: