Submitted by Kayo
Hearty and warm soup that is perfect for the winter. Gluten-free and dairy-free. It can easily be converted to vegan by substituting honey with agave nectar.
This soup is one of our favorites. The color is absolutely beautiful and will brighten up any dinner. With a good blender, it is extremely smooth, thick, and rich. Sprinkle nutmeg over it before serving to put it over the top. Delicious and healthy!
Ingredients:
2 medium size butternut squash, quartered lengthwise.
2 TBSP melted margarine or butter
3 C vegetable stock or water
1 TBSP honey (or agave nectar if you want to make it vegan)
1/2 tsp freshly ground ginger
1/3 coconut milk
1/8 tsp nutmeg
salt to taste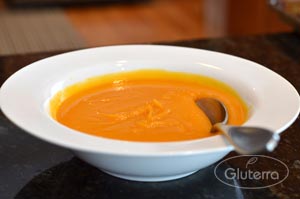 Directions:
Brush the flesh of the squash with melted margarine or butter, and bake in a 400F oven until the squash is soft - about 30-50 minutes.
Scoop the flesh of the squash into a pot and add the stock, honey, and ginger. Bring to a simmer and puree it using a blender (a hand blender makes this easy)
Add the coconut milk, and season with nutmeg and salt
If you like nutmeg, grate and sprinkle fresh nutmeg on top before serving
Notes:
Don't forget to put the lid on the soup when you simmer it. The soup tends to splatter, and can easily erupt when you add the cold coconut milk to it.
Average Gluterra user rating: