Submitted by Andrea on August 22, 2013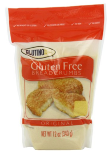 I'm part Italian and love my Italian food. Since being diagnosed with Celiac Disease, I felt like I have missed out on some of my favorite Italian dishes. There are some dishes you can get out at some restaurants that are fitting for people who have food allergies and specially dietary needs. Some Italian restaurants are beginning to serve gluten free pizza and pasta dishes. Finding a chicken or veal parmigiana? Not so easy. These dishes you'll probably have to make at home. Every ingredient in these dishes is necessary and each makes it delicious, including the breadcrumbs. However, the breadcrumbs are what makes it difficult for someone who cannot eat gluten!
Glutino makes this easier by making their version of gluten free breadcrumbs. I have used the original breadcrumbs to make chicken parmigiana and it was surprisingly good! Like most gluten free foods, it's not exactly like the gluten variety, but it does come pretty close. The Glutino Gluten Free Original Breadcrumbs are made with corn meal (and also lists sugar in their ingredients). During preparation, the bright yellow colored corn meal coated the egg-dipped chicken just like regular breadcrumbs would have. I cooked the chicken in olive oil, and it browned nicely as well. When baked with tomato sauce and mozzarella cheese, you really couldn't tell the difference!
These breadcrumbs can also be used in many other dishes. I have also used these breadcrumbs in meatloaf. When slicing through the meatloaf, I couldn't even tell that these breadcrumbs had even been used. Furthermore, I couldn't taste the breadcrumbs, or feel them in my mouth! I look at this as a positive. Since they are made out of a crunchy cornmeal, I was a bit skeptical when first making this dish. I obviously didn't want a crunchy meatloaf and I didn't want a meatloaf that tasted anything like corn. I was pleasantly surprised. It gave the meatloaf the extra oomph it needed, and it definitely felt spongier and moist.
Something else that I find great about this product is the simplicity of the ingredients. As mentioned, the only ingredients in this product are corn meal and sugar. (In 1/3 of a cup, which is a serving, there is less than a gram of sugar). Right on the bag, Glutino also mentions that there is no wheat (or gluten), no casein or milk, no soy and no eggs. As someone who has other allergies, although not any of those listed, I appreciate that Glutino recognizes that people have other food sensitivities and lists that on the bag.
Another added bonus is the actual packaging that Glutino uses. The breadcrumbs are packaged in a plastic resealable "zipper-style" bag. The bag also stands up! It allows for easy storage. Speaking of the packaging- read the back. There's a great recipe for gluten free stuffing. Furthermore, you'll see on the nutritional information that there are eleven servings in this container, which makes the price you pay (which really isn't much) well worth it!
Happy eating!