Submitted by Andrew on May 23, 2013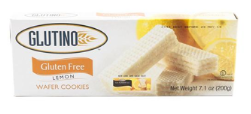 I've become quite accustomed to Glutino putting out stellar products, so I was hoping that these cookies weren't like some of the mealy and overly-sweet treats I've had form other companies. Glutino did not let me down.
An attractive package design and wrapped in shiny plastic wrap, the wafer cookies are light and airy with three layers (or wafers) stuck together with a thin lemon cream layer in between each and a nice pattern on each cookie. They have a wonderful light and crisp texture to them and a rather subtle yet refreshing lemon flavor. It seems the lemon taste grows as you eat them, but it is still slight nonetheless. If you don't want an overbearing lemon treat, then these might be the ones for you.
They remind me of some of the treats I used to like in my pre gluten free days — something along the lines of the Nabisco Bisco Sugar Wafers, but with a lighter taste and and less pronounced sweetness.
You can easily eat them by themselves, or mix it up by adding a couple of them to a small bowl of ice cream (coconut or oat ice creams works too) to create a great contrast for a quick dessert or snack.
These are not low carb by any stretch of the imagination, so leave room in your daily carb allowance to enjoy them fully.
Since the cookies are so delicate, they seem to break quite easily, so package them accordingly if you are taking them on the road. I would recommend transporting them in the box they came in or in some other rigid container.
With these cookies being so light, they are not as filling as some other treats you may be used to, so do not get near this box before dinner because you won't have any left for dessert. My wife and I like them so much that we have to ration them, otherwise we would blow through the entire box in one sitting.
And, like most other gluten free snacks, these are a little on the expensive side. Order yourself a box or three here http://gluterra.com/store/product/a/glutino_gluten_free_wafers_lemon_7_1_oz; you won't be disappointed.
Glutino Gluten Free Lemon Wafer Cookies are gluten free, dairy free, casein free, and soy free.
I'll give them a 5 out of 5 stars.