Submitted by Andrew on October 11, 2013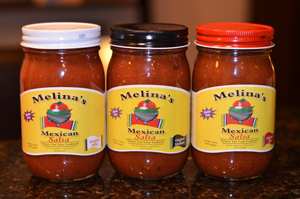 We've kind of given up on canned/bottled salsa. It seems that every time you get one of the mass market brands, it just doesn't live up to the fresh salsas that we get in most of the Mexican restaurants we frequent. The store-bought variety always has that fake, gelatinous thickness and texture along with that bland processed taste — not so good. So when we (my wife and I) had the chance to try a lesser known variety (Melina's Mexican Salsa), we weren't exactly jumping up and down with anticipation.
We were able to try all 3 flavors - mild, medium, and hot. They come in 16oz. jars with colored lids to indicate the heat. White is mild; black is medium; red is hot. The jars are labeled gluten-free and made with all natural ingredients.
When we opened up the glass jar, we noticed the color of the salsa seemed brighter red than some of the mass produced salsas, and it looked and smelled very fresh. The texture was not too chunky, not too smooth, and not too runny — it was just right. It's just the right consistency for scooping up with chips or to use as a sauce to add to a dish. And most importantly, the taste — no weird seasoning of any kind and it had that solid salsa flavor that we hoped for. It tasted like what fresh salsa should taste like, and there was no "preservative" after taste if you know what I mean. It was so good that we started craving this salsa more and more and we were sad when the jar quickly became empty.
The only downside at all is that the flavors tend to have more heat than most varieties of salsa we've tried. I'm sure the amount of heat is considered authentic, but the mild flavor has a little more kick than expected and it's a bit spicy for some, although probably no more than most Mexican restaurants. The slight heat of the mild version will build up in your mouth, making it unsuitable for people who love salsa but can't tolerate hot/spicy foods, like my mom. The medium and hot were as expected. The medium was what we would consider hot and the hot was very hot, although some of the medium seemed to taste similar to the hot. Maybe our tastebuds were burned out, but I'm sure there are slight variations in heat from batch to batch. Even with a little extra heat, the taste was still fantastic.
Bottom line: if you want fresh, basic, great gluten-free salsa, then you should pick up a jar or three of this!
We haven't seen Melina's products at local stores, but you can order them online from their web site. In addition to salsa, Melina's sells corn chips that are also gluten-free. We haven't tasted the chips, but if they are as good as the salsa, it's probably worth trying them.
Maybe we can convince them to create an "organic" gluten-free line of salsas. Now that would be ideal.
We give it a solid 4 stars!