Submitted by Kimberly on May 13, 2013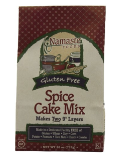 Namaste is my absolute favorite brand when I am looking for quality gluten-free (and allergen-free) mixes. I love to create my own recipes in the kitchen, but I don't ever come close to the quality I find with the Namaste label. A family favorite is their Spice Cake Mix.
I'm not here to bash any other companies, but let's just say I've had some not-so-favorable experiences with cake mix. If you're like me, cake isn't something I make all the time. It's supposed to be special. It's supposed to be a treat! Typically, cake for us means a birthday. Birthdays also means guests. There's nothing more embarrassing than serving guests something you aren't proud of. Namaste Spice Cake though? I always get rave reviews! People are floored when they learn it's gluten-free.
Like many of the Namaste products, the spice cake tastes way too good to be gluten free! And casein free? The factory is actually dedicated, so you can feel safe knowing you won't suffer any cross-contamination issues. There's nothing I hate more than seeing those little printed word, "may contain traces of…". Unsettling to say the least. Does it or doesn't it? I'm not willing to take the risk.
My mother, who has no food allergies, actually prefers the carrot cake I make using Namaste Spice Cake Mix over the other brands. I simply grate a few carrots, toss in some raisins and crushed walnuts and voila! It tastes so good I don't even think it needs frosting.
Another thing I truly appreciate about this mix is the fact that it's not overly sweet. I hate biting into anything that tastes like pure sugar. It's definitely indulgent, especially since I don't typically eat sweets, but it's not sickeningly sweet like many cakes I've tasted in the past.
I'm a bit of a health nut, so when I cook treats for my son I like to make sure he's getting nutritious, quality foods. I often make muffins using Namaste Spice Mix as the base. I experiment quite a bit with what I mix in, but there's ALWAYS vegetables hidden in there! How many kids willingly eat zucchini on a regular basis? Mine does! If I add shredded zucchini, I make sure to add some extra flour, or coconut, so the final product doesn't turn out too wet. When my son hears it's time for a baking project, he starts pulling vegetables out of the refrigerator. It's nice to have such a versatile, good-tasting mix to work with.
If you're on any sort of restricted diet, you know how challenging it is to eat outside of your own home. In years past, I used to bake entire cakes every time my son was invited to a birthday party. Before I discovered Namaste mixes, inferior mixes didn't stand up the test of time… if you didn't eat it fresh-baked, you were left with a dry, crumbly mess. Namaste Spice Cake though? There's always some in my freezer! It stays moist and fresh for months. I like to wrap individual pieces in wax paper, then place them in a storage bag in the freezer. Last-minute party invites are a breeze knowing my son won't have to feel left out in the food department. It's so nice when a quality product comes along, sometimes the little things like cake can really feel life-changing.
4.5 stars