Submitted by Andrea on July 29, 2013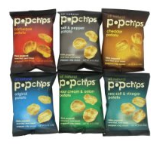 It seems like we are all trying to watch our weight, our diets and what we are eating. However, it's difficult not to eat some foods we love, especially snack foods. One of my biggest downfalls is chips. Lucky for me (or not lucky for me?) is that potato chips have always been, for the most part, gluten free. When I was diagnosed with Celiac Disease, that was one thing that I did not have to change! Potato chips were something I enjoyed eating, could be bought at a "normal" store, and were cheap (compared to other gluten free foods). Like I stated before, chips can be a downfall. Most are fried in hydrogenated oils and contain so much fat and so many calories. Also, I don't know anyone who can have just one or two chips, so in a sitting, one can consume quite a bit. I know that for me, I would take the bag with me and travel to the couch, or a table to work and before I knew it most of the bag was gone. Some people can be very disciplined and portion out a serving in a bowl and stop there. Me? No.
One day while perusing the chip aisle at a "normal" grocery store, I stumbled upon Pop Chips. I was drawn to the gluten free aspect of them of course, but as I'm getting older, I have the "eating healthier" motto in my mind now too. Pop chips has them both. Pop Chips are made from potatoes, so they are gluten free. They also aren't fried… they aren't even baked. They are popped (with heat and pressure)! So, they are much healthier for you-- with half the fat of regular potato chips, all natural, no preservatives, no msg, and non-GMO too. In addition, they are Kosher dairy.
The best part though are the varieties of flavors. Pop Chips offers Original, Sour Cream and Onion, Barbeque, Sea Salt and Vinegar, Sweet Potato, Salt and Pepper Potato, Parmesan and Garlic, Jalapeño, and my favorite, Cheddar Potato. They even started making corn tortilla chips in Nacho Cheese and Kettle Korn. These chips have a great consistency- very airy feeling, yet crunchy at the same time. The Pop Chips are round in shape and the tortilla chips are triangular. They actually stay that shape in the bag! I haven't come across any crumbs like you usually do in bags of chips.
I love eating them alone as well as dipping them in hummus. While Pop Chips do come in full size bags, you can buy them in smaller sized bags as well, which helps with portion control (even though they are better for you to eat). The prices are fabulous and you can find them everywhere. It's so nice to find a snack that's gluten free, healthier than most snacks, cheap and readily available for a change.
Happy Eating!