Submitted by Andrea on May 8, 2013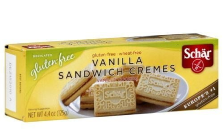 Dessert is my favorite meal of the day, hands down. About two and a half years ago, at 28 years old, I developed peanut, tree nut, and coconut allergies. It was a weird and unfortunate situation, yet I was still able to find some of my favorite sweets- doughnuts, pastries, cupcakes and (most of all) cookies- to eat. I just had to be careful and read the ingredients and nutrition labels carefully. About a year and a half ago, I was diagnosed with Celiac Disease, just like my late father. I had yet another obstacle to overcome.
Desserts had to take the back burner and the more important food groups took center stage. After I figured out what healthy stuff I could and couldn't eat, it was time for the fun stuff! Unfortunately, I was saddened by my options on many occasions. Many of the gluten free desserts out there just aren't that good. For one, frozen doughnuts aren't my thing. When defrosted and cooked, they turn out rubbery if you don't scarf them down immediately, and at that time they are burning hot. Secondly, buying pre-made cupcakes and cakes are costly, and it's difficult for me to find a nut-free bakery. It turns out I'm not much of a gluten free baker unless it comes pre-packaged and I just need to add eggs and water, or I have the time and energy to bake. (I'm a second grade teacher. Need I say more?) Thirdly, many of the boxed cookies either don't taste good, or have the consistency of sand, to put it bluntly.
Boy, was I happy when Schar came out with their Gluten Free Vanilla Sandwich Cremes! It was everything I was looking for! For one, the ingredients are simple. Even with all of my allergies, and obviously my Celiac Disease, I can eat them, no problem. They are sweet of course, but not overpowering! Sometimes cookies with a creme center can be too sweet, but not this cookie. It's a perfect balance. Consistency is a big deal for people with Celiac Disease, in my opinion. So often gluten free food can have the wrong "feel" and as I have mentioned, other cookies have felt like sand in my mouth. Schar did it right with these Vanilla Sandwich Cremes- it bites like a cookie, it crumbles the way a cookie should crumble, it crunches- it's crazy good!
I do have to say, besides the near perfect vanilla taste and texture, my other favorite part about this cookie is the packaging. Each box contains 12 cookies, but they are individually wrapped into 6 packs of 2 cookies! This is good for two reasons. It's great to just take a pack of two "on the go" or to pack in a lunch. However, it helps in my case to keep me from eating an entire box in one sitting! I limit myself to one 2-pack of cookies a day! I'm so happy Schar came out with these cookies. They definitely gave me back something I was missing.
5 stars
Happy eating!