Submitted by Kayo
Healthy gluten-free snack bars can get really expensive, but you can easily make your own snack bars at home and save some money. All you need for this recipe is a food processor and 5 ingredients. No baking is required.
These fruit and nut bars are sweetened only with dried fruits. Goji berries give an extra layer of flavor and nutrition to the bars, so don't skip this ingredient. If you can't find Goji berries near you, you can order them from here (This is the brand we use).
Ingredients:
1 1/2 C Roasted unsalted almonds
1/2 C Dried apricots
1/2 C Dried and pitted dates
2 TBSP Dried goji berries
1/2 tsp Vanilla extract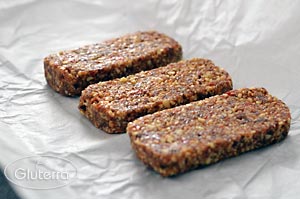 Directions:
Put all ingredients in a food processor and mix until almonds are broken into tiny pieces (smaller than a grain of rice).
Put the mixture into a large bowl or clean flat surface and press it into a tight ball. Then shape it into a block.
Slice the block into 6-8 bars and wrap individual bars with plastic wrap or wax paper.
Notes:
We use organic ingredients whenever we can. If your dates are really dry and you can't press the mixture into a ball, you could add a small amount of purified water (I haven't needed to do this so far). Almonds have natural oils and the bars might have a little almond oil on the surface even though no oil has been added. We pack them in plastic wrap to make it a nice little mess-free snack.
Average Gluterra user rating: