Submitted by Kayo
This recipe requires only 5 ingredients. You may notice that it has many steps for a slow cooker recipe (after all, slow cookers are invented to make cooking easy, right?). But it's definitely worth following all the steps to get the great flavor. It's still a great simple recipe that can transformed into multiple dishes.
While it tastes great by itself, it's also great with our BBQ sauce. We also make tacos and fried rice with it. We then freeze any leftovers (on the rare occasion we have them), wrapping them into single serving sizes with saran wrap and freezer bags.
Ingredients:
3.5 lb - 5 lb Pork butt or shoulder, bone-in is fine
1/2 tsp Granulated onion
1/2 tsp Granulated garlic
1/2 tsp Kosher salt
1/4 tsp Black pepper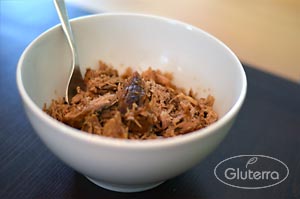 Directions:
Mix all ingredients except for the pork in a small bowl and set it aside.
Trim the pork fat if you see any chunks of fat on the outer layer.
Heat a skillet on high until it's smoking hot and brown the pork on the skillet, rotating on all sides to get an even golden brown. (The fat will melt and it becomes very greasy, so there is no need to put oil in the skillet).
Put the pork in the slow cooker (I use an oval 6 quart slow cooker) and sprinkle the seasoning mixture evenly onto the pork.
Cook the pork on the low setting for 10-12 hours. There will be a lot of liquid in the slow cooker.
Remove the bones from the pork, and shred the pork just enough to expose all the fat inside the pork (The fat outside should have all melted, but you will probably see some of the fat still in tact inside.) Cook for another hour until most of the fat liquifies.
Remove the meat from the slow cooker into one bowl, and put all the liquid into another bowl. Let the liquid sit until the fat separates and rise to the top.
Shred the pork and put it back into the slow cooker. Remove any visible fat from the meat as you put it back.
Skim off the fat from the liquid and pour the brown gravy portion onto the pork in the slow cooker. The gravy from the pork will keep the pork moist and flavorful.
You can leave it in the slow cooker until the pork is ready to be served.
Notes:
Pork butt/shoulder is cheap, but REALLY fatty. Going through the extra steps to get rid of the fat is really necessary. It's so tasty that it's worth the extra trouble!
Average Gluterra user rating: