Submitted by Kayo
We make most of our sauces at home using basic ingredients such as ketchup, vinegar, etc. This BBQ sauce is as basic as it gets. The sauce is tree nut free, and can be made vegan if you use vegetarian worcestershire sauce. As always, it's gluten-free.
Ingredients:
1 C Ketchup (we use Heinz and it's gluten-free)
2 TBSP Worcestershire sauce (we use Lea & Perrins and it's gluten-free)
1/4 C Brown sugar
2 TBSP Apple cider vinegar
1/4 tsp Granulated onion
1/4 tsp Granulated garlic
1/4 tsp Kosher salt
1/4 tsp Black pepper
dash of hot sauce such as Tabasco
1/4 tsp Liquid smoke (optional)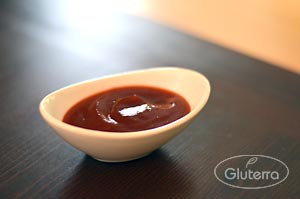 Directions:
Put all ingredients in a sauce pan and heat it on medium high heat until the sugar is melted and the sauce starts to bubble up. Stir constantly.
Notes:
We make BBQ tacos using this sauce. Recipes coming soon!
Average Gluterra user rating: