Submitted by Kayo
Since I live in the South, I occasionally cook southern food and it can be very good, even relatively healthy if you do it right. Fried okra is one of the dishes I like to cook when okra is in season. I put my own spin on it by making it gluten-free vegan and it's actually not "deep fried", but more like pan fried in olive oil. The coating of the okra doesn't look as pretty and uniform as the store bought variety, but I think my version tastes as good or better than the regular fried okra. This is a delicious side dish to make when okra is in season, and especially if you have southern relatives that are keeping away from gluten. Scratch that, any southern relatives will do the trick, gluten-free or not.
Ingredients:
3/4 lb. fresh Okra, cut into 1/4-1/2 inch thick pieces
1/2 C Cornmeal
1/2 tsp Kosher salt
black pepper (optional)
1/4 C Dairy free milk (I use rice milk)
1/2 C Olive oil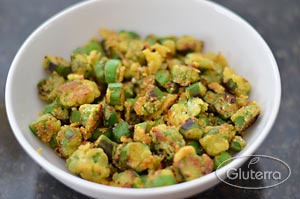 Directions:
In a small bowl, mix salt, cornmeal, and black pepper (optional) and set it aside.
In a large mixing bowl, put the okra and add dairy free milk so that the okra is just moist.
Heat a large skillet (12") to medium and add oil.
Sprinkle the cornmeal mixture onto the okra, and mix it lightly with your hand until the corn meal is spread almost evenly (but it won't look uniformed).
Put the okra mixture into the skillet evenly and cook on medium heat.
Flip the okra occasionally with a spatula so that the okra cooks evenly. If the okra starts to burn too fast, lower the heat.
Cook until the okra is golden brown. Serve immediately.
Notes:
Use fresh okra only. Frozen okra won't work. Some of the cornmeal will come off the okra, but those crunchy bits are great too. Even though the taste is good when re-heated the next day, the crunch just isn't there. I highly recommend eating soon after cooking.
Average Gluterra user rating: