Submitted by Kayo on April 2, 2013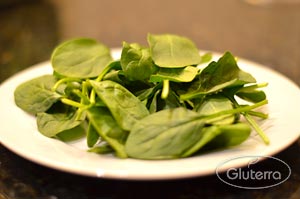 This may be dating myself a little, but I used to watch Popeye when I was a kid… in Japan (the shows were dubbed in Japanese of course!). You probably know how Popeye gets his ultra power — by eating spinach and then beating the bad guys in every episode. As a Japanese kid, it always puzzled me why spinach was in a CAN. I had never seen spinach that wasn't fresh from the garden back then. Maybe I should credit my Mom for cooking only fresh vegetables at home. Maybe it was just that there was no canned spinach available in Japan (or at least I had never seen any). Either way, it was not until I came to the U.S. before I saw canned and frozen spinach. Finally, Popeye's spinach made sense to me.
While eating spinach may not give you an immediate boost of energy like it does to Popeye, spinach is indeed a great source of vitamin A, vitamin C, vitamin E, vitamin K, iron, etc., and the list goes on. Also, the Aggregate Nutrient Density Index (ANDI) score is 739 only to be beaten by kale (1,000), collards and mustard greens (1,000), watercress (1,000), swiss chard (895), and bok choy (824).
I especially love baby spinach. Regular (big) spinach is good too, but it tends to have sand in it and it is harder to clean. So, I usually buy a 1 pound container of organic baby spinach at Whole Foods. Forget about the small bags; it's much more economical to buy the large container. Eating gluten-free is not cheap, so I need to shop smart whenever I can. Spinach doesn't stay fresh for too long, but we have no problem polishing off one pound of spinach between the two of us.
I like spinach in my salads but I don't think they add much texture or flavor to them. That's just my personal opinion. Besides, you need to eat many servings of salads to finish a pound of spinach. We usually start off with green smoothies for breakfast while the spinach is the freshest. We use 2 cups of spinach (packed tight) for 2 serving of smoothie, so that's quite bit of spinach in the smoothie, but you can't really taste it. Since the spinach is mostly water, it liquifies nicely. We eat spinach this way for a day or two. The picture below is our spinach smoothie (1 serving):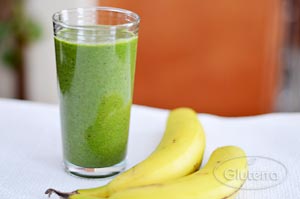 After a couple of days, we usually cook rest of the spinach. The quickest and easiest method I use is this:
Cook it for 2 minutes in boiling water, then immediately rinse in cold water, squeezing the hell out of it to get all the water out. Then plate it and sprinkle dried bonito flakes and gluten-free soy sauce to taste.
I serve this dish either at a room temperature or cold. In Japanese, this type of quick boiled vegetable dish is called "ohitashi". The traditional and pure way of preparing ohitashi involves seasoning the spinach (or other type of vegetables) with fish and/or seaweed based stock called "dash", but I just use soy sauce, which is also a common way to prepare ohitashi. Once squeezed tightly, a pound of spinach will shrink into a small chunk that will fit in your hands. Don't forget to loosen up the leaves a little before serving.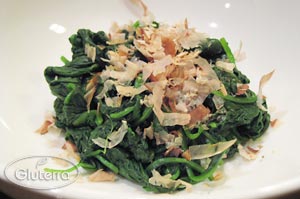 Note: The bonito flakes are an essential part of Japanese dishes, and I use them often in my dishes. They are just plain shaved dried bonito fish, so it should be gluten-free. The flakes are very light weight but have strong bonito (somewhat fishy) flavor. A small amount of bonito flakes adds a lot of flavor to simple dishes like the one I mentioned above. If you are interested in bonito flakes, you can find them at any Japanese grocery stores, or you can buy them online.
Another way I like to eat our "leftover" spinach is to simply sauté it with olive oil, sliced fresh garlic cloves, and a sprinkle of kosher salt and lemon juice. It makes a great side dish for fish, chicken, steak, or anything really. Also I used to make boiled spinach with peanut butter, gluten-free soy sauce, and sugar. Andrew likes it, but I haven't made it in a while. It sounds weird, but it's actually quite good. I need to make it and post the recipe some time. I used to make fish pie that has a lot of spinach in it too, but I don't cook it anymore (lots of dairy!). Maybe I'll post the fish pie recipe too.
What's your favorite way to eat spinach?
Tags: