Submitted by Kayo on April 20, 2013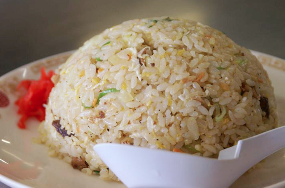 Growing up in Japan, I ate a lot of fried rice. Most Chinese restaurants in Japan serve great fried rice. It is usually seasoned with salt, pepper, Chinese bouillon (sometimes called weipar), and maybe just a tiny amount of soy sauce for a hint of flavor. I think Chinese bouillon is made of chicken and pork stock and vegetable extract. Here in the U.S., I see many Chinese restaurants season their fried rice with lots of soy sauce. So it is seasoned a little differently from what you find in Japan.
I used to use Chinese bouillon to make fried rice, and I admit that it does give a nice flavor, which is the flavor I am used to eating. However, many of the seasoning mixes I buy from Japan, such as the Chinese bouillon, contain MSG. In case you don't know that acronym, that's Monosodium Glutamate, and it is a food flavor enhancer. The problem is that MSG can cause some side effects in about 1% of the population, and it's probably not that great for you. So I don't MSG anymore; I now use Tamari gluten-free soy sauce to season my fried rice.
The basic ingredients in fried rice (in Japan) are usually eggs, green onions/scallions, roasted pork or ham, and maybe processed seafood products called naruto or kamaboko (they are sort of like the fake crabmeat sticks you buy in the U.S.). It's usually served in a dome shape with a spoonful of pickled ginger called "beni shoga". Unlike the ginger you see at sushi restaurants, beni shoga is seasoned a little differently (less sweet for one thing) and shaped more like matchsticks and bright red in color. Traditionally, the color comes from red shiso leaves, but what you see in Japanese grocery stores are mostly artificially colored. I like them, but I rarely buy them because of the artificial red coloring.
My fried rice recipe has evolved over time, and the ingredients change depending on what's available or left over. I usually cook meals using ingredients I can easily find in regular grocery stores, though I occasionally go to a Japanese grocery store to buy a few things. One major change I've made is that I now use Jasmine rice instead of sushi grade short grain white rice. I posted my basic fried rice recipe on the site a few days ago, but if you didn't see it, this is my basic recipe. I sometimes add sesame seeds, peas, soy beans, or frozen mixed vegetables. I also cook it with tofu, with chicken, or without meat depending on my mood or what I have in the fridge at that time.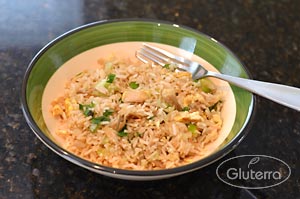 Fried rice is best cooked with left over rice. If you are using sushi grade white rice, it's probably a good idea not to use freshly cooked rice at all as they are much too sticky. Yes, fried rice is starchy/carby food, and almost as bad as white bread, but I grew up with it, I love it, and it's easy to make it gluten-free and dairy free!