Submitted by Kayo on June 12, 2013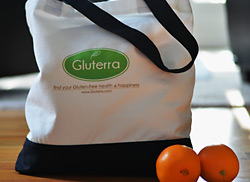 Congratulations to Tonya, Linda, Colleen, Angela, Andrea, and Kimberly. They are the lucky winners of our Gluterra tote bag give away and should have already received them in the mail!
In case you missed it, we had a promotion last month to give away our tote bags. We plan to have this type of promotion once in a while, so make sure to keep an eye on the announcements!
What kind of prizes are you interested in? Gluten free baking mixes or baked goods? Coupons, or Gluterra mugs? If you have any suggestions, please let us know. You can either comment on this page, or fill out our Contact form. We would love to hear from you!
Tags: