Submitted by Kayo on August 16, 2013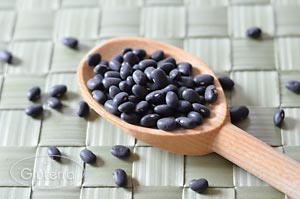 While looking for dessert recipes that don't use any type of flour (including gluten-free flour), I ran across several black bean brownie recipes. As I read through people's comments, I noticed that many people were skeptical of using black beans as a primary dessert ingredient at first. For me, though, it wasn't weird at all. Growing up in Japan, I ate a lot of bean-based desserts. Many traditional sweets called "wagashi" are made of beans. Adzuki beans are probably the most popular beans used, but we also eat white kidney beans, black beans, soy beans, and green peas to name a few (ok, so peas are not technically beans).
Down the street where my parents live, there is a wagashi shop. The husband in the family is the artisan in the kitchen and the wife sells his creations at their shop. I call him the artisan because he creates beautiful bean based desserts called "nerikiri" every morning. Nerikiri is primarily made of beans and sometimes with some candied chestnuts, rice flour, or other traditional ingredients. The photo below was taken last year when I visited my parents. These delicate desserts are often served in traditional tea ceremonies, and they are not overly sweet (in fact, Japanese sweets in general are not as sweet as American sweets including cakes). Nerikiri goes perfectly with green tea, and I think it is usually gluten free, however you probably want to ask first if you ever find them and want to try some.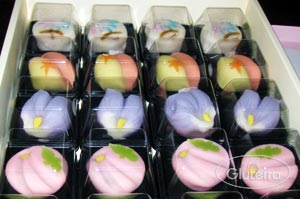 So back to the recipe, when I saw the black bean brownie recipe, I was excited to try them. After combining several recipes and tweaking them a few times to my liking, I came up with my version of black bean brownies. I call it gluten-free flourless brownies so that the black beans don't scare people off just by looking at the title. You really can't taste the beans because of the strong cocoa flavor. I also tried substituting the extra virgin olive oil with coconut oil, and they were great too (if you like the coconut flavor).
To confirm that these brownies don't taste like beans, I didn't tell my husband what was in them. He had no idea that they were made of beans! He did notice that the texture was not like regular brownies but that was expected as these don't contain any flour.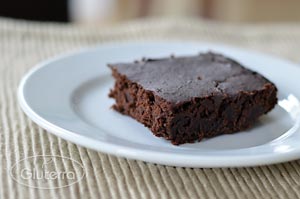 If you have been on a gluten free diet and are used to eating simpler and healthier food, you will love these brownies fore sure. Don't expect them to replace the dense fudgey brownies, however. These brownies have a much lighter and airy texture than regular brownies. But since I'm not a huge fan of extremely rich and sweet desserts, these brownies are a perfect dessert for me. If you decide to try and make them, let us know what you think.
Tags: