Submitted by Kayo
This recipe is for a busy family who has no time to cook. Throw all ingredients into a slow cooker and let it cook over night or start the cooker in the morning and cook it all day. The house will be smelling great when you come home for dinner. Serve it over noodles or rice, and you have a great, filling, and tasty meal that is easy to make.
Ingredients:
2.5 lbs. Stewing beef
1 16 oz. jar of Italian Giardiniera (Italian pickled vegetables)
1/2 16 oz. jar of Pepperoncini
1 packet of gluten-free Italian dressing powder, or home made Italian seasoning mix (recipe below)
1 C warm water
Italian Seasoning mix
1 TBSP Granulated onion
1/2 TBSP Granulated garlic
1 TBSP Sugar
3 pinches Dried oregano
2 pinches Dried parsley
2 pinches Dried basil
1 pinch Dried thyme
1 pinch Celery seeds
1/8 tsp Black pepper
1/4 tsp Kosher salt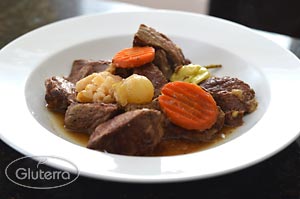 Directions:
For the best results, brown the beef in a skillet first. This will give the dish a nice, seared beef flavor. Omit this step if you are trying to cut the preparation time (but not recommended).
Add the water to the slow cooker. Note: If you brown the beef, deglaze the pan with 1 cup of water after you finish browning the beef, and use it in place of plain water.
Put the beef in the slow cooker and sprinkle the Italian seasoning mix evenly over the beef.
Spread the vegetables on top of the beef.
Pour about 1/2 of liquid from the jar of Italian Giardiniera.
Cook it on low for 12 hours.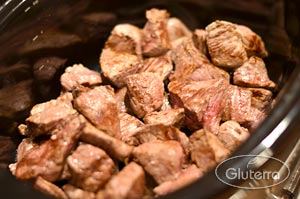 Notes:
If you don't want the vegetables to become too soft, you can add the vegetables in the last 2 hours of cooking.
Average Gluterra user rating: